Grounded Birds
Grounded Birds is a multiplayer RPG about the tragic fate of birds – being robbed of their ability to fly, they become easy prey for other inhabitants of their world.
You join a group of brave hatchlings, as you will take a last stand to save the birds from becoming extinct.
Set in a quirky and playful world, with darker influences from games like Diablo 2.

Move, hop and explore – With your ability to fly taken from you, the main way of getting around is running and hopping on objects in the world. But be wary, as predators are around every corner!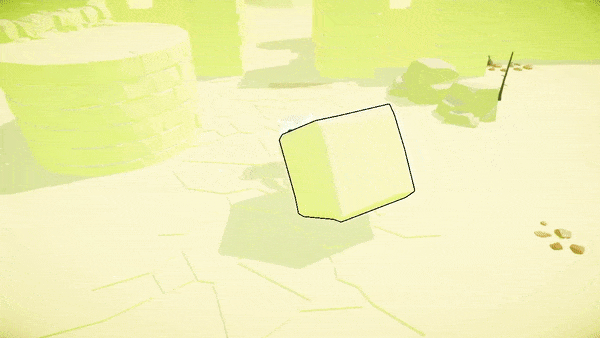 Collect a wide variety of gear and fight – Arm yourself with lots of different gear and protect your feathers from hungry enemies. Magical items grant you special abilities that you can cast!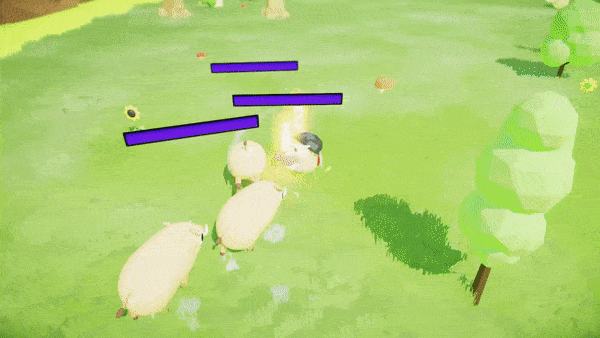 Level up your character – choose your path and skill up your strength, speed, luck and more. These choices combined with the items you prefer will make you a unique member of your team.
Grounded Birds

A Leap Forward is a Realtime Strategy game that you play from a First Person perspective. You give tasks, such as "collect wood" to your exceptionally smart rabbits and they figure out the most efficient way to fulfill it. As a player you can help out directly, or provide them with tools and buildings that increase productivity.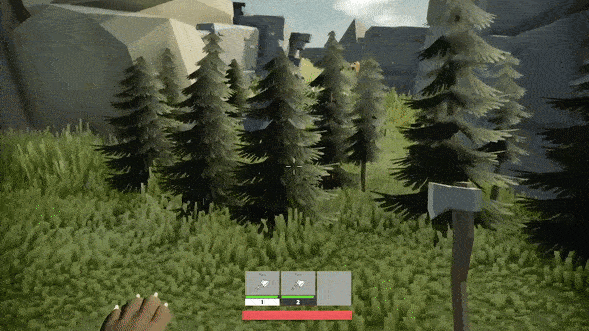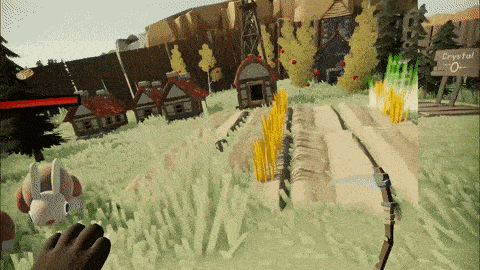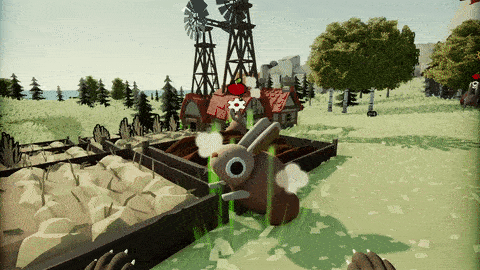 As an example, rabbits start by collecting branches from the ground, but by giving them an axe, they will chop down nearby trees instead. By building a sawmill, and providing them with axes, they will automatically chop trees down and refine them at the sawmill, which improves productivity even more.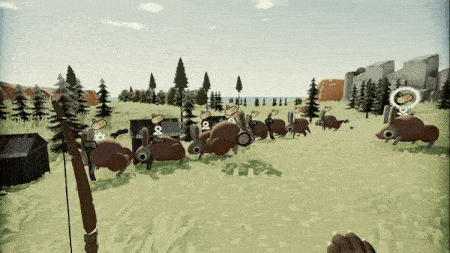 While you manage your village, hostile foxes will attempt to capture and destroy it and eat the population. You are on the ground with your troops and can interact with them directly or through bulk orders. The goal is to survive several enemy waves and amass as much gold as possible, that can be used to purchase new building blueprints, tools or weapons.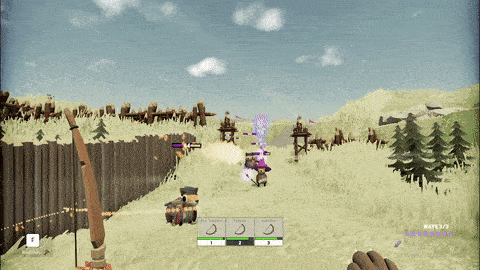 Get the demo now on GameJolt!
A Leap Forward
Ruben's Puppets combines Real Time Strategy elements with Third Person Action gameplay.
Players can traverse, interact and gather within a large scale conflict that is played out by two opposing puppet factions.
Your goal is to fend off the Tin puppets and free the creator of the puppet world who is being held hostage.
Support or manipulate puppet economies.
Use your bow and arrow to fight hostile puppets.
Outsmart the enemy general!
Thesis Committee: Richard Lemarchand, Karen McMullan, Carl Schnurr
Download the free demo now!
Ruben's Puppets
A Goldrush themed local multiplayer brawler for PC and Mac. Created in collboration with John Billingsley
Play as two competing prospectors trying to fill your safes with precious gold nuggets or other items of value.
Whether it's in the dusty hills of the Sierra Nevada, the icy peaks of the Klondike, or the burning heat of the desert, it's your chance to strike it rich!
But beware, competing prospectors abound!
Armed with dynamite and bear traps and no sense of the law.
GOLDRUSHERS will provide fast paced action, wacky antics, and flying horses for your living room.
SPLIT-SCREEN MULTIPLAYER – Share a couch but steal the gold! Two players compete for one to three stages.
TWO-SCREEN MULTIPLAYER – We are in 2017! You can play GOLDRUSHERS on two screens for the ultimate experience!
THREE UNIQUE LEVELS – Choose from our 3 exotic locations with challenges to face and secrets to uncover!
MORE THAN 40 ITEMS TO FIND – Have you ever wondered how many dollars a snowman is worth? Just throw them in your safe and you'll find out!
DYNAMITE – Use dynamite to stun the other prospector and break into their safe – it's a blast!
BEARTRAPS – Hide beartraps and slow down the other player for an eternity!
FLYING HORSES – Throw them at the other player!
Download the free demo now!
Goldrushers
The goals of this game were to allow the player to explore an intriguing environment that they change through direct and indirect choices and interactions.
Conveying a narrative while giving the player agency was the challenge.
This project was developed in Tracy Fullerton's "Design for Interactive Media" class at the University Of Southern California.
Developed in collaboration with Gabriela Purri R. Gomes and Stephanie Henderson.
Try it here (155mb):
Petit oiseau
A serious game about smuggling people from South of the Border to the "Safehouse".
Players become smugglers and help their "Braceros" to cross the border. A risky endeavour – death and the borderpatrol are omnipresent.
Coyote
The Challenge:
The typical museum visitor looks at a single work of art for less than 30 seconds. Utilizing a specific work of art on display at the Getty Center, create a playful experience that helps the player discover something interesting about the art that s/he might have missed in a 30-second look. 48 Hours to create the experience.
Made at the #GettyJam, 27-28. February 2016
Work of Art in focus:
"A Walk at Dusk" – 1835
Caspar David Friedrich
(Germany, 1774 – 1840)
This painting is about divinity of nature and meditation of mortality. References to german philosopher Schelling (Eternal cycle of life & death in nature)
Our approach
Interpret the meaning and intention of an artwork – Recreate a version of the environment – Convey the meaning through game-mechanics
Mobile Experience, that can be used by everyone in the museum on their Android devices.
A Walk At Dusk
A film with a non-linear structure. Exploration of the possibilities of multiple interwoven story-threads. A rotary phone, which also appears on screen, is used as an input artifact.  
Reflektion
"Beyond the door" is an interactive installation with a large format projection and the Kinect – interface. The visitors to the exhibition are tracked by the Kinect and are represented as avatars in a virtual environment.
Through physical movement and gestures, the visitors can interact with a space where the aesthetics of film noir and expressionist movies converge with elements of shooter games. The streets of the urban landscape are branched and maze-like, city noise and dissonant music form an unsettling soundscape.
Sigmund Freud appears as a protagonist, he follows and watches the interactors. All roads ultimately lead to Freud's practice, where the final boss is waiting.
Try the demo here – Windows. (zip file)
Try the demo here – MAC. (zip file)
"Beyond the door" ist eine interaktive Installation mit Projektion und Kinect – Interface. Die AusstellungsbesucherInnen werden registriert und tauchen als Avatare in den virtuellen Raum ein.
Durch Bewegungen und Gesten im realen Raum können sie mit einer Welt interagieren, in der ästhetische Verweise auf den Film Noir und den expressionistischen Film mit Elementen von Shooter-Game-Szenarien konvergieren: Man zieht durch verästelte, labyrinthhafte Straßen. Dissonante Musik und Großstadtlärm dringen durch das urbane Setting.
Sigmund Freud tritt verschlüsselt als virtueller Protagonist auf, beobachtet und verfolgt die BesucherInnen. Alle Wege führen letztlich in die Praxis Freuds, wo der "Endgegner" wartet.
Beyond The Door
The formal elements of a silent film from 1929 are applied to a video game film from 2012. The protagonist moves in sync with the original film in a film set built in 3D. Having once dominated cinema halls, movies have now entered our homes, TVs, laptops, and mobile phones.
Video game films (machinima) are highly digital films – entire film sets can be downloaded as "maps" and interacted with on one's own computer. I transform this information onto a 16 mm black and white roll of film – a code becomes a finished artistic object.
A game engine enables me to approach the qualities of a monumental film from the late 1920s. At the same time, I try to abandon the traditional aesthetics of a video game (polygonal world, endless depth of field, pixelated textures) and change the first impression through the "haptic quality of the old". The colorfulness and noise background of a game are removed, and only one accompanying soundtrack remains for both films.
Due to the parallel projection (a computer program turns on the projector and plays the digital movie at the same time), the machinima film – a very young means of cinematic expression – is treated as equal to one of the last blockbuster productions of silent film.
http://www.resettheapparatus.net/corpus-work/frau-im-mond.html
[ngg src="galleries" ids="3″ display="basic_slideshow"]
In German:
Die Formalitäten eines Stummfilms von 1929 werden auf einen Videospielfilm von 2012 angewandt.
Der Protagonist bewegt sich zeitlich synchron mit dem Originalfilm, auf dem im 3D Raum nachgebauten Filmset.
Cinema 3.0
Filme sind aus den einst vorherrschenden Kinosälen in unsere Wohnungen, Fernseher, Laptops und Mobiltelefone gewandert. Videospiel – Filme ("machinima") sind die digitalsten Filme – Ganze Filmsets können als "map" heruntergeladen und auf dem eigenen Rechner interaktiv begangen werden. Ich transformiere diese Informationen auf eine 16mm Schwarz/Weiß Filmrolle – Aus Code wird ein abgeschlossenes Kunstartefakt.
Jeder ist Produzent.
Eine Spiel – Engine bietet mir die Möglichkeit mich künstlerisch an einen Monumentalfilm der späten 20er Jahre anzunähern. Gleichzeitig versuche ich die traditionelle Ästhetik eines Videospiels (Polygonwelt, unendliche Tiefenschärfe, pixelige Texturen) abzulegen und den Ersteindruck durch die "Haptik des Alten" zu ändern. Die Buntheit und die Geräuschkulisse eines Spiels werden entfernt, es bleibt eine begleitende Tonspur für beide Filme.
Gegenüberstellung
Durch die parallel laufende Projektion wird die Wertigkeit eines Machinima Films, eines sehr jungen filmischen Ausdrucksmittels, mit einer der letzten millionenschweren Stummfilm – Produktionen gleichgestellt.