Car
Car
Grounded Birds is a multiplayer RPG about the tragic fate of birds – being robbed of their ability to fly, they become easy prey for other inhabitants of their world.
You join a group of brave hatchlings, as you will take a last stand to save the birds from becoming extinct.
Set in a quirky and playful world, with darker influences from games like Diablo 2.

Move, hop and explore – With your ability to fly taken from you, the main way of getting around is running and hopping on objects in the world. But be wary, as predators are around every corner!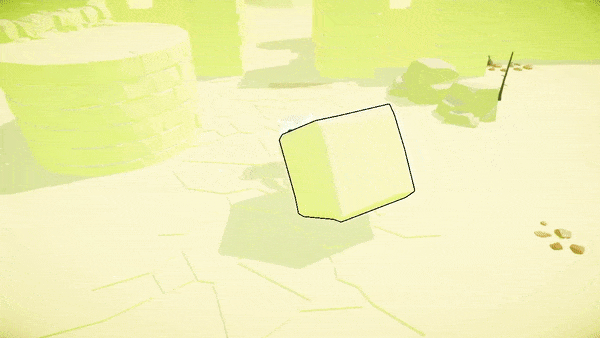 Collect a wide variety of gear and fight – Arm yourself with lots of different gear and protect your feathers from hungry enemies. Magical items grant you special abilities that you can cast!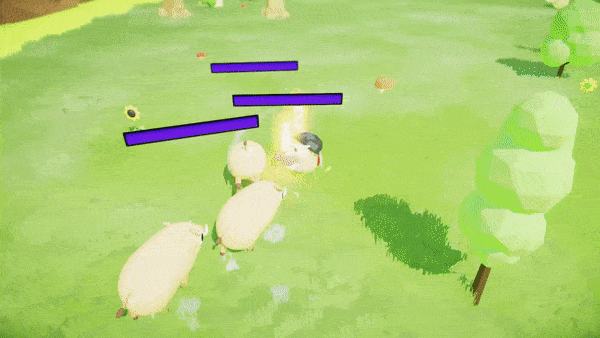 Level up your character – choose your path and skill up your strength, speed, luck and more. These choices combined with the items you prefer will make you a unique member of your team.
Grounded Birds

A Leap Forward is a Realtime Strategy game that you play from a First Person perspective. You give tasks, such as "collect wood" to your exceptionally smart rabbits and they figure out the most efficient way to fulfill it. As a player you can help out directly, or provide them with tools and buildings that increase productivity.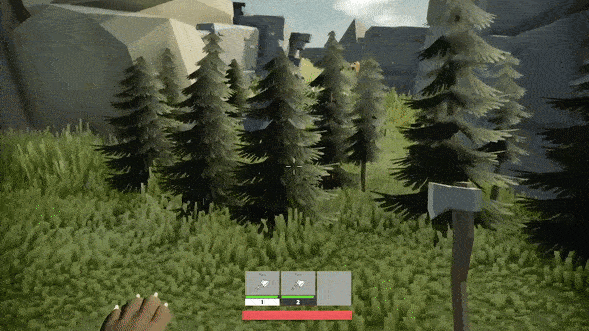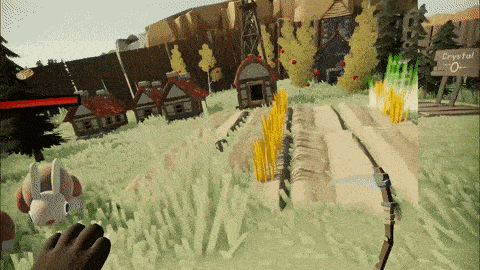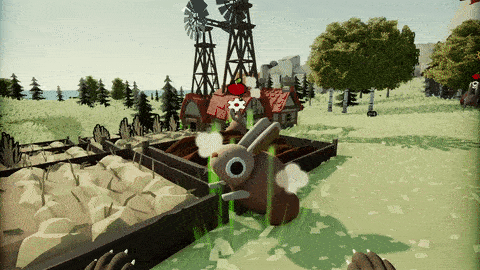 As an example, rabbits start by collecting branches from the ground, but by giving them an axe, they will chop down nearby trees instead. By building a sawmill, and providing them with axes, they will automatically chop trees down and refine them at the sawmill, which improves productivity even more.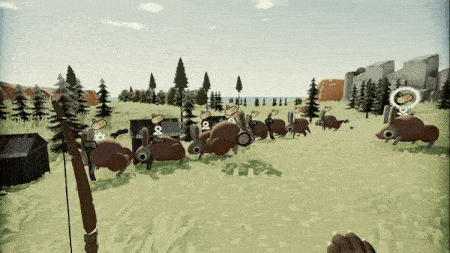 While you manage your village, hostile foxes will attempt to capture and destroy it and eat the population. You are on the ground with your troops and can interact with them directly or through bulk orders. The goal is to survive several enemy waves and amass as much gold as possible, that can be used to purchase new building blueprints, tools or weapons.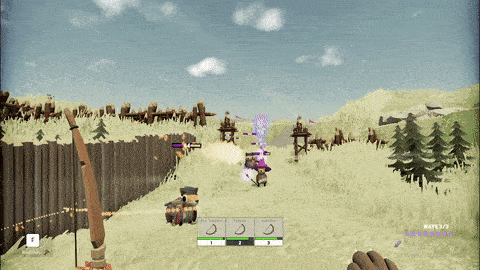 Get the demo now on GameJolt!
A Leap Forward
The development of this prototype spanned over the course of several weeks.
The goal was to make a Virtual Reality game that connects to a custom made physical controller.
Step 1 – Connection between Arduino & Unity Android app
This was pretty straightforward, using a Bluetooth chip, I was able to connect my Android phone to the Arduino board. The simple input was a potentiometer.
Step 2 – Build a custom controller prototype
For this next step I wanted to create a more durable, portable prototype that could be carried around and had two buttons to press.
Step 3 – Ideate core mechanics of gameplay
Next, I wanted to find the core loop of the game.
You can control the time of day in a prehistoric environment with a physical interface (potentiometer). When you make it daytime the population (cavemen) will start gathering wood. When it's night, they will retreat to their cave and burn wood to stay warm, as well as reproduce. The goal of the experience is to balance resource gathering and risking being eaten by tigers (if they chop wood for too long).
Bluetooth Microcontroller to Google Cardboard
I am currently researching Goal Oriented Action Planning as a way to build AI that's capable of relatively emergent behavior.
Based on the world and objects around it, the AI decides the best strategy to fulfill its' goal (in this case, gathering wood).
Each action it has available carries a certain cost and precondition. Collecting logs has no preconditions but is more costly than chopping wood.
Chopping wood requires picking up an axe first, though.
Over the course of several prototypes, performance and control over the AI was improved. I am using Unity 3D and C# for these prototypes.
Goal oriented AI
Ruben's Puppets combines Real Time Strategy elements with Third Person Action gameplay.
Players can traverse, interact and gather within a large scale conflict that is played out by two opposing puppet factions.
Your goal is to fend off the Tin puppets and free the creator of the puppet world who is being held hostage.
Support or manipulate puppet economies.
Use your bow and arrow to fight hostile puppets.
Outsmart the enemy general!
Thesis Committee: Richard Lemarchand, Karen McMullan, Carl Schnurr
Download the free demo now!
Ruben's Puppets
A Goldrush themed local multiplayer brawler for PC and Mac. Created in collboration with John Billingsley
Play as two competing prospectors trying to fill your safes with precious gold nuggets or other items of value.
Whether it's in the dusty hills of the Sierra Nevada, the icy peaks of the Klondike, or the burning heat of the desert, it's your chance to strike it rich!
But beware, competing prospectors abound!
Armed with dynamite and bear traps and no sense of the law.
GOLDRUSHERS will provide fast paced action, wacky antics, and flying horses for your living room.
SPLIT-SCREEN MULTIPLAYER – Share a couch but steal the gold! Two players compete for one to three stages.
TWO-SCREEN MULTIPLAYER – We are in 2017! You can play GOLDRUSHERS on two screens for the ultimate experience!
THREE UNIQUE LEVELS – Choose from our 3 exotic locations with challenges to face and secrets to uncover!
MORE THAN 40 ITEMS TO FIND – Have you ever wondered how many dollars a snowman is worth? Just throw them in your safe and you'll find out!
DYNAMITE – Use dynamite to stun the other prospector and break into their safe – it's a blast!
BEARTRAPS – Hide beartraps and slow down the other player for an eternity!
FLYING HORSES – Throw them at the other player!
Download the free demo now!
Goldrushers
The goals of this game were to allow the player to explore an intriguing environment that they change through direct and indirect choices and interactions.
Conveying a narrative while giving the player agency was the challenge.
This project was developed in Tracy Fullerton's "Design for Interactive Media" class at the University Of Southern California.
Developed in collaboration with Gabriela Purri R. Gomes and Stephanie Henderson.
Try it here (155mb):
Petit oiseau
A serious game about smuggling people from South of the Border to the "Safehouse".
Players become smugglers and help their "Braceros" to cross the border. A risky endeavour – death and the borderpatrol are omnipresent.
Coyote
The Challenge:
The typical museum visitor looks at a single work of art for less than 30 seconds. Utilizing a specific work of art on display at the Getty Center, create a playful experience that helps the player discover something interesting about the art that s/he might have missed in a 30-second look. 48 Hours to create the experience.
Made at the #GettyJam, 27-28. February 2016
Work of Art in focus:
"A Walk at Dusk" – 1835
Caspar David Friedrich
(Germany, 1774 – 1840)
This painting is about divinity of nature and meditation of mortality. References to german philosopher Schelling (Eternal cycle of life & death in nature)
Our approach
Interpret the meaning and intention of an artwork – Recreate a version of the environment – Convey the meaning through game-mechanics
Mobile Experience, that can be used by everyone in the museum on their Android devices.